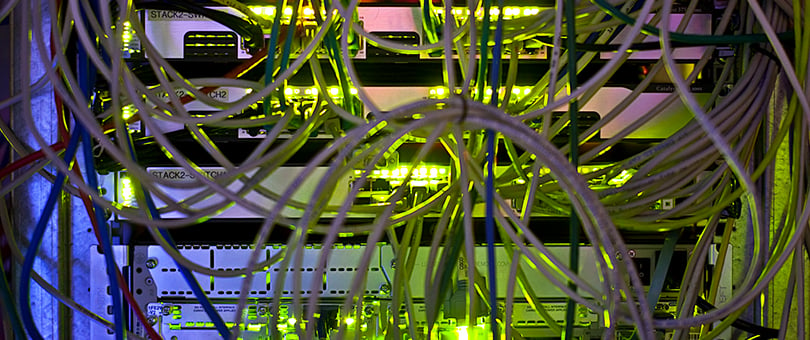 The conversation around information technology and operational technology has changed rapidly in just a few short years. First it was "IT vs. OT" as if the two disciplines were involved in a boxing match over control of networks and processes. Then it was more kumbaya and free love with the "One Network" sentiment which begged the question can't we all just get along? Finally, I remember just last year sitting in a session at Realcomm | IBCon called "IT/OT Closing the Gap" where OTI's president Brian Turner tried to strike a more nuanced tone as moderator between representatives from manufacturers, systems integrators and property management firms.
Things move quickly these days and what we believed was true yesterday could be upended by a new situation we're presented with today. This is as true in commercial buildings as any other industry. The biggest take away from this shape-shifting IT, OT, IoT debate is that all levels of building construction, management and maintenance are experiencing changes in the ways they work and collaborate.
Call it convergence, a takeover, a battle royal or a convivial camp fire but just don't pretend it's not happening. For OTI's part, with the acquisition of an IT managed services firm and its six employees, we're embracing the change, leaning into it with our whole business in order to build more robust, total building solutions.
To that end, meet Richard Miller, the head of the IT managed services firm formerly known as Ontai, now VP of Information Technology at OTI. We asked him five questions to get his take on how IT and OT can better work together, what "managed services" really means, and the projects he's most excited to work on at OTI.
Rich, welcome to OTI! From where you sit in the IT world, what has been your experience of IT/OT collaboration? How has this changed and where do you see it heading now?
I compare the relationship between IT/OT to the experiences we all faced during the early stages of VOIP. There were two different worlds that were on a collision course and when that happened, the fallout that ensued had some people reeling. Those who embraced it were very successful. We had "phone guys" struggling to learn enough networking to make their new breed of products communicate. Then we had "IT guys" struggling to learn the concepts and proprietary terminology of traditional phone systems. There is a vast difference between making something work and doing it both correctly and securely. In recent years, OT systems and facilities in general can become much smarter and more sophisticated. Building tools to enable that sophistication is the real purpose and goal behind OTI and the acquisition of ONTAI.
Talk about the need to break down barriers. How can both IT and OT become more interested in each other's roles and responsibilities? And why should they?
I'm not sure it's about breaking down barriers to be honest. I think it's more about establishing trust and leveraging that trust to help both sides understand the needs and goals of the other.
Thinking about OTI now having an IT department, how will the project process change? What will OTI projects look like moving forward?
Ultimately our goal is to provide the most secure and right-sized solution, on time and on budget. Of course there are unforeseen circumstances with every project, but this is what we're working toward. As a contractor, our team has been side-by-side with OTI to overcome issues in gaining adoption, designing and implementing solutions. As a managed service provider, we were also implementing secure solutions for customers in in small- to medium-businesses. Those worlds are similar. That's where we find the pathway to convergence in our businesses and ultimately in OT/IT building networks.
Can you define managed services for us? Are IT managed services different than OT managed services? Will OTI be offering both now?
The definition of a "managed services provider" is "proactive delivery of their service." In that sense, the methodology and processes are very much the same. Moving forward, yes, OTI will provide managed services for both IT and OT endpoints.
Broadly speaking, what projects either already underway or on the horizon are you most looking forward to?
The projects that most inspire me are those where we are retrofitting a building that was built well before OT or even IT was a concept. We're coming in and transforming those old, inefficient systems to turn the whole thing into a smart building. We have a number of those in progress and coming soon so it's been great from the beginning.
Keep up with OTI projects, news and events – subscribe to our blog and sign up for our newsletter. You can also connect with OTI and Rich on LinkedIn, and follow us on Twitter.
*Network connections photo by Claus Rebler on Flickr.