We're here most weeks to explore recent news related to smart buildings, energy management, operational technology and network security in an effort to understand where the industry is now and to encourage big thinking in bite-sized chunks.
Remote work takes (P)interest
Pinterest, a social-sharing site, canceled a large lease on a new construction in San Francisco, citing a longer term remote-working vision that they say will help them expand the diversity of their talent. Though they are keeping current office space leases, this news is making waves in the commercial real estate industry because Pinterest is far from alone. Facebook, Apple and Twitter have also announced permanent plans to expand remote work. In case you're wondering, canceling a lease comes at a cost - $89.5 million in this case - and construction takes time, so Pinterest must be pretty clear on their long-term strategy here.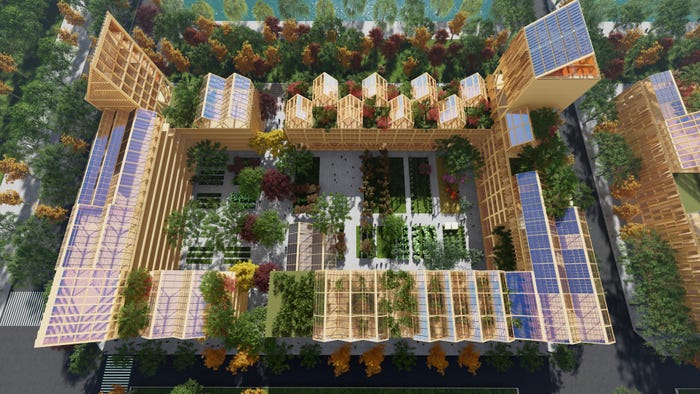 Forget Smart Cities, make way for COVID-proof Cities
China is reportedly hard at work on a new "COVID-proof" city that will, theoretically, prevent the spread of another infectious disease like the one we're battling right now but also provide "a full life in times of confinement." It aims to be a self-sufficient city complete with solar panels and "drone-friendly terraces designed for deliveries." This is the real-life version of expect the best, plan for the worst and it's both cool and mildly depressing.
IKEA aims to save vacant San Francisco mall property
It's win some, lose some in San Francisco these days. They may have lost a new construction project (see Pinterest above), but they'll soon gain a shopping mall anchored by IKEA. Ingka Centres, the shopping center arm of the iconic Swedish home goods store, is one of the world's largest mall owners. Despite the pandemic and the havoc it is wreaking on malls in the U.S., Ingka bought its first stateside slice of retail real estate and will dump some $260 million into the acquisition and redevelopment.
Follow this blog for OTI's perspective on energy management and technology-enabled solutions for smart, digital buildings.