On July 23, experts from the industry came together to host and speak for Realcomm's webinar "Achieving Optimal Energy Efficiency in Buildings." The webinar, moderated by Scott Collins of Technology GC, featured Jonathan Flaherty of Tishman Speyer, Ryan Knudson of Macerich, Maria Solobay of Yardi, Andrew Tanskey of Schneider Electric, Aaron Brondum of Prescriptive Data, and Jean-Simon Venne of BrainBox AI. The biggest topic of discussion was how to make buildings more energy efficient, and what utilizing energy in smart buildings might look like in the years to come.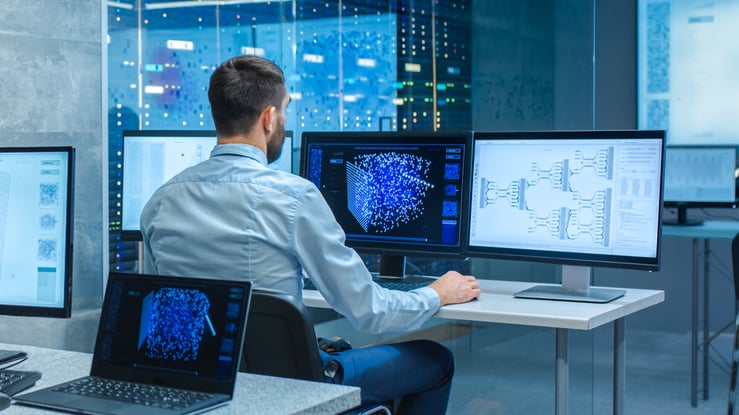 Real estate professionals Jonathan Flaherty and Ryan Knudson spoke about buildings themselves. Flaherty put an emphasis on the fact that operational changes, due to COVID-19, have increased energy consumption. He also mentioned that energy efficient buildings and buildings that learn how to respond to their occupiers are the future, clearly paving the way for the rest of the discussion to be about AI and its potential impact on smart buildings.
Knudson talked about developing an optimized building strategy, using real-time monitoring, on-site generation, HVAC active control, and fault detection to back up his strategy. His strategy, similar to the energy management solution he and his team created with OTI, prioritizes energy saving and management.
Technology experts Maria Solobay, Andrew Tanskey, Aaron Brondum, and Jean-Simon Venne all touched on how to achieve optimal energy efficiency using AI. Solobay mentioned that "the more advanced the property, the more energy is being used," and that the requirements for smart buildings are changing due to the pandemic—the emphasis is now as much on air quality as it is on the temperature in spaces. Tanskey went on to talk about the pros of intelligent buildings, citing that they're more cost effective, less intrusive to occupants, future ready, and they manage cyber vulnerabilities, among other things. Brondum focused more on the statistics of AI in buildings, citing that smart buildings are more reliable in cases of emergencies, and Venne talked about how AI almost completely removes the need for people to manually control their smart buildings.
The webinar brought to attention the way that the commercial real estate industry has changed as it grapples with ways to improve energy efficiency, but now to address the immediate needs of health and safety brought on by the COVID-19 pandemic. The panelists showed that there is tremendous innovation and momentum toward achieving better, more intelligent energy efficiency in buildings.
Follow this blog for OTI's perspective on energy management for smart buildings.