How standardization and a multi-system integration approach is helping this large health system find efficiencies through construction and operations.
Buildings: 3 hospitals + MOBs and corporate offices
Location: San Diego, California
Size: 50+ buildings
Start date: September, 2019
Status: In progress
Scripps Health San Diego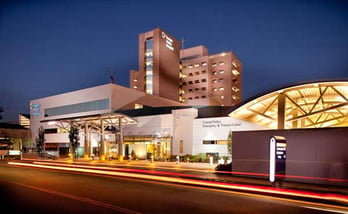 After years spent developing the framework and standards for its Integrated Automation Systems (IAS), including a requirement for open, BACnet IP-based controllers across their network of buildings, Scripps Health hired OTI as its IAS Network Integrator to deploy the standards across their portfolio. OTI is responsible for bringing system data into the Niagara 4 Supervisor securely and in a manner that makes it available for command and control via a Niagara 4 graphical interface across the enterprise.
As IAS NI, OTI is coordinating efforts between the Information Systems teams and the Facilities Design and Construction teams to ensure that all network-connected devices are vetted and approved by networking and cybersecurity experts in a manner compatible with construction timelines. OTI is also working closely with Building System Contractors, particularly controls contractors but also with electrical and other trades to ensure all sub-systems are provided with network connectivity in the most efficient way possible.
OTI has evaluated the existing conditions at the three main Scripps hospitals as well as medical office buildings and corporate office buildings in order to prioritize integrations based on the condition of the system, the cost of maintaining it as a proprietary network and the future plans for the site, among other variables.
Proprietary and outdated systems found across the portfolio include Siemens P2, Alerton BACnet, Johnson Controls N2 and Staefa. After working with the Scripps stakeholders to determine the integration priority, OTI is now working through each of these systems in order to pull their data into the unified user interface and enterprise command center.