How OTI benefits building managers
If you've been with your building for a while now, you know each system and piece of equipment like the back of your hand. If you're new to your building, you're auditing the systems and developing a strategy for maintaining and optimizing all the equipment that's now under your care.
You know better than anyone how important it is to have a current record of all equipment running through the building. And you're good at juggling priorities. When too many alarms are firing or the phone is ringing off the hook with hot and cold calls it's difficult to implement a bigger-picture strategy.
You need a team that's on board with your vision and you need tools to streamline all of your responsibilities. You need OTI.
Integrating your systems through an OT backbone will allow you to proactively manage the devices under your control, while streamlining your workflow and creating record of your system successes.
Key benefits of OTI's integrated systems:
Real-time access to energy, HVAC, lighting and plants with ability to drill down into device-level performance.

Fault detection with enhanced alarm management that will ensure you're not chasing down a dead-end.

Reports to track historical data and performance of equipment and systems over time.

Day-to-day workflow will shift from addressing emergencies to implementing proactive management strategies that will ensure longevity of systems.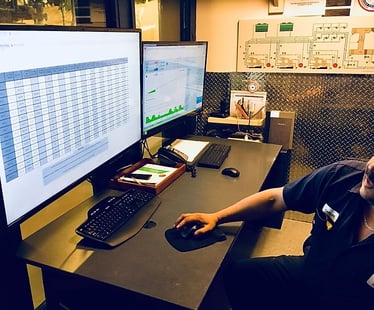 What OTI can do for you
We help you select the right devices for all building systems and integrate them according to a well thought-out strategy. We'll be a welcome addition to your team, easing your workflow and helping you get past the flood of daily emergencies that keep you from implementing the optimization strategies you've been developing.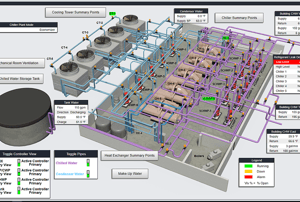 Here are details of the benefits OTI brings:
Proprietary systems can be costly to maintain and limiting to innovation. We know all the big name equipment and we're connected to new companies that are expanding system capabilities with open protocols.

Fiber backbones offer incredible network speed and scalability. Running fiber can actually be cost-effective and is the best way to ensure that all building networks are capable of expanding as energy and operational efficiency requirements change for you and management over time.
Building analytics. You can't managed what you can't measure, and without OTI to install sub-meters and tag devices with industry-standard protocols, it's nearly impossible to run analytics on your building systems. Data is a driving force in decision making, and without it, it will be difficult to fully understand and communicate the real status of your equipment.

Proactive management from day one. Integration and a visual management dashboard get equipment and tasks organized in a way that helps you understand what's a priority and to better track where problems are coming from.
Connected systems are crucial to managing a smart building. Bringing in a trusted master systems integrator will expand your capabilities as a building manager and help you show results in the form of energy and operational efficiencies.
Want to know more about how OTI
can help you add value to your building? Let's talk.