How OTI benefits general contractors
As a general contractor, you're the conductor in charge of getting all vendors and sub-contractors on schedule and in budget. You're the client's trusted adviser, the one they're looking to for input across the range of disciplines that come and go on a project.
The decisions that are made in the initial construction or at the beginning of a major retrofit have implications on building operations for decades. As you know, this work is costly and time consuming.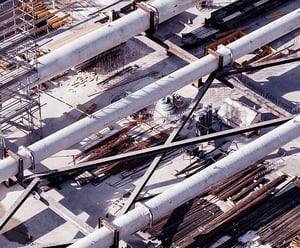 An understanding of connected or integrated building systems can add another layer of value for your clients. It's true, everyone is focused on getting the project started, keeping its costs down and opening it when tenants are expecting to move in. So it may seem strange to start talking about the future at this critical point. But it won't be long before the building owner, who is looking to recoup costs and maintain market value, starts experiencing operational challenges with their new or upgraded asset.
Framing the conversation
By asking a few key questions at the beginning of a project, you can help frame your client's thinking and inform a future-focused strategy that they'll surely thank you for later. Important questions include:
Do you plan on billing tenants for actual energy use?

Have you considered how your facilities team will continuously monitor and maintain building equipment?

Utility companies are moving toward more charges for peak usage. Are you anticipating how this can affect your net operating income? Would you like to have options for controlling that peak usage over time?

Do you want your building systems to include devices that utilize open protocols or proprietary systems?

Will device and data security factor into your IT and OT network designs?

Is this building standalone or part of a larger portfolio that a corporate entity will need to manage from a remote location?
What does OTI do anyway?
Involving OTI on your project from the beginning can help you answer these questions for clients and will show that you're committed to the lasting success of the project. New construction is the perfect opportunity to lay all the groundwork for a highly functional, efficient and continuously optimized building. Selecting the right devices for all building systems and integrating them according to a well thought-out strategy will have huge implications on NOI over the lifespan of the building.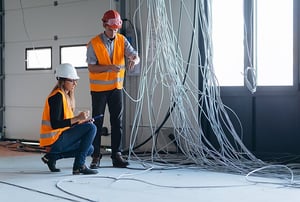 Here are some of the benefits OTI brings to your projects:
Propriety systems can be costly to maintain and limiting on innovation. We know all the big name equipment and we're connected to new companies that are expanding capabilities of systems with open protocols.

Fiber backbones offer incredible network speed and scalability. Running fiber along with the rest of the communication lines make it more cost-effective and is the best way to ensure that the network is capable of expanding as energy and operational efficiency requirements change for the building over time.
Sub-metering and device tagging. This may be more detail than you need, but sub-metering and device tagging are the most crucial elements to analytics operations. Installing sub-meters and tagging devices with industry-standard protocols will make it exponentially easier to implement an analytics strategy when building owners are looking to improve the efficiency of their asset.

Proactive management from day one. If you're not careful, the building you've spent years constructing will never be as efficient as it was the day it opened. With points 1-3 in place, OTI can set up a management console that will begin collecting data as soon as the lights go on.
New constructions and major retrofits offer incredible opportunities to do things right the first time. While it may at first seem like one more thing on your project to-do list, your clients will quickly realize that it will save them money in the long run and add immediate value to the building you're all working so hard on.
Want to know more about how an MSI
can help you add value? Let's talk.