How OTI benefits mechanical contractors
You're the expert GCs turn to when their building projects are ready for HVAC, sheet metal, pipe fitting and refrigeration. OTI has know-how and man power you need to deliver on those HVAC specs so you can produce a job that's on time and within budget.
To improve your value on the job site, you're constantly innovating on construction techniques to deliver value engineering for all of your clients. That doesn't always leave time to be up-to-date on the latest in building controls, and these days there's a lot happening in our field.
Sub-contracting OTI to be your HVAC and building controls expert will increase your value on the job site and decrease the time it takes to deliver a job. Our approach to integrated systems keeps us constantly testing systems and we only work with the highest quality and most cost-effective devices.
Key benefits of working with OTI:
We understand controls, from simple devices to complex systems, from light industrial to full enterprise. Plus we have access to all the latest product innovations and installation best practices.

With OTI on your side, you'll deliver projects faster and more completely than ever before.

Your systems will be more reliable for the long-term.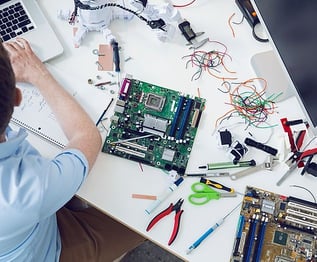 Want to know more about how OTI
can add value to your mechanical contracts? Let's talk.