What is NYSERDA RTEM?
New York State's Energy Research and Development Authority (NYSERDA) operates a cost-sharing program for buildings that invest in Real Time Energy Management (RTEM). As defined by the program, RTEM is a cutting-edge technology or system that transforms the way you manage, consume, and buy energy.
RTEM systems continuously collect live and historical performance data through a cloud-based or on-site system. That data can be analyzed to uncover optimization opportunities for the site's energy usage. Sensors, meters, and other equipment, along with data analytics and information services show how your building or facility is performing at any point, in real time.
Buildings utilizing NYSERDA's RTEM program are seeing returns of 15-30% energy savings per year.
Energy
Savings
Cost
Sharing
Proactive
Management
How is OTI involved with RTEM?
In February of 2018, OTI became an official NYSERDA RTEM vendor which involved a rigorous verification process to determine our ability to install, integrate and operate new building automation systems with proven energy management and optimization capabilities.
Now that we're approved, we're working with building owners across New York City to earn up to 30 percent cost-sharing on qualified RTEM projects.
Qualifying projects:
Multifamily

Commercial

Industrial
OTI specializes in RTEM systems for commercial buildings.
OTI's RTEM services:
Real time energy management is at the core of all OTI's integrations. We have been creating energy management dashboards that include fault detection, fault diagnostics, predictive analytics and performance optimization for years. Our partnership with NYSERDA RTEM allows us to offer clients access to supplemental funding for qualified building automation system projects.
In addition to cost-sharing incentives, leading benefits of working with OTI on an RTEM project include: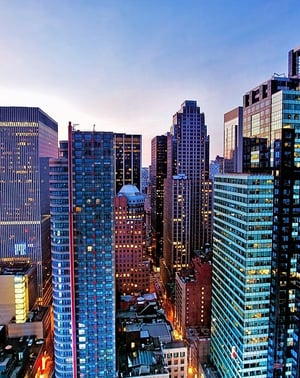 Central utility usage tracking

for one-stop management of total energy consumption and spending.

Management of on-site generation assets

such as combined heat and power generation, energy storage and renewable energy resources, as well as scheduling and operations of building equipment and plants.

Ability to monitor base-building systems

and common areas with tenant-owned systems and tenant-occupied spaces.

Continuous identification of energy efficiency operations

that include no-cost/low-cost measures.

Tracking for comparisons

on energy performance across a portfolio.

Automated fault detection

with remediation diagnoses and suggestions to accelerate failure recovery.

Potential for peak demand reduction

programs.

Continuous quality assurance
As part of the NYSERDA RTEM program, OTI will be re-certified every four years so that building owners can feel confident our solutions continue to meet the rigorous requirements of a changing environment.
Contact us about starting an RTEM project today