For all of its reputation and glamour, New York City may be best defined by its skyline. The buildings that fill in the grid like a 5,000-piece puzzle are icons even if you don't know their names or what the people inside of them are doing. And remarkably, on the 304-square-mile island there are always more buildings working their way up toward the horizon line, like these beauties expected to be complete by 2021. With that backdrop, building automation in New York City offers incredible opportunity.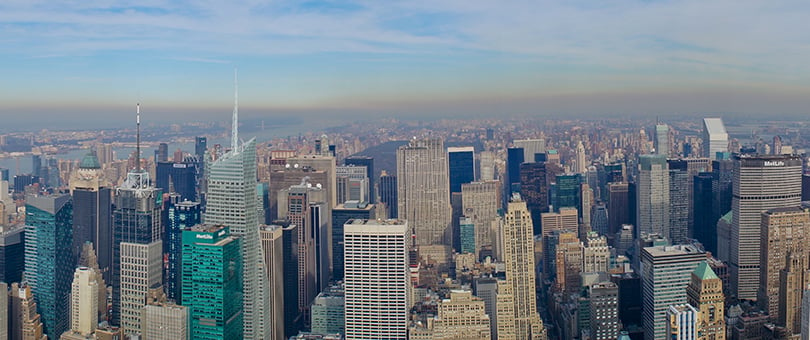 What presents the most opportunity for building owners, contractors and tenants in the city are the older buildings that don't get as much attention. About half of all commercial buildings in the United States were constructed before 1980. To drill down into the age of New York City's buildings alone, turn to this incredible technicolor map. It puts NYC in line with the national numbers and it's fun to zoom in and see the surprising bursts of hot pink noting a building here and there that is nearly 200 years old.
Building Automation in New York City
Building automation in New York City thrives on that large inventory of rather old buildings. A lot has changed in building and energy management just in the past 10 year. New York City happens to be an incredible place to improve existing stock of old buildings that no longer operate like they should.
These are the first two things you should know before you embark on building automation in New York City.
1.) Find the right partners
The right partner can not only keep the job moving, they can present opportunities you didn't even know about. Enter NYSERDA, the New York State Energy Research and Development Authority. They promote energy efficiency and the use of renewable energy sources across the state. Don't worry, this isn't a fad group that just cropped up and may be out of money by the time you get around to opening their web page. NYSERDA has been governed by a 13-member board providing objective information and analysis, technical expertise and support across the buildings industry since 1975. They have a long list of programs and services for customers and vendors. OTI was recently certified for their Real Time Energy Management (RTEM) Program, so we can bring up to 30% in project discounts by using this program.
2.) Consider the cloud
Plenty of building owners think their systems are outdated. Those same building owners are likely not authorizing the gutting of an entire system based on a hunch. So contractors and integrators would be wise to start small. Focus on one system or desired outcome and prioritize. Once you get beyond the basics - repairing and replacing parts that are clearly malfunctioning - cloud monitoring can open valuable windows. These systems typically offer real-time views and various analytics and show which devices cause problems.
*Skyline photo by Matheu Slotero on Flickr